While marketers spend hours perfecting their marketing emails, there is one thing they often overlook– transactional emails.
Transactional emails are usually considered boring and just a means to share the required information. But what if you are missing out on massive untapped potential.
On average, the open rate for transactional emails is over 80%. That means a much higher probability of people reading your message and getting acquainted with your brand.
And once you get the audience's attention, the rest becomes slightly more manageable.
In this article, we will see what transactional emails are and how they can power your customer engagement strategy.
Table of Contents
What are Transactional Emails?
Transactional emails are automated messages sent to unique subscribers based on their recent account activity. These are not scheduled beforehand and are triggered based on the user's interaction with your website or application.
For example– a user added some items to the cart but didn't go through the purchase. So, a cart abandonment email will be sent to get their attention back.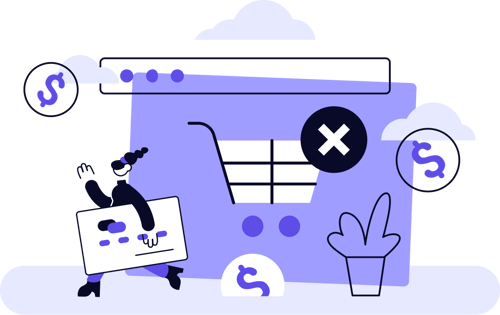 Transactional vs. Marketing Emails
Though both transactional and marketing emails are an effective form of communication between a company and its subscribers, there are some key differences to note.
Unlike marketing emails, transactional messages aren't designed to promote your services or upsell. Transactional emails aim to share urgent action-based information that's relevant to only that specific user instead of everyone on your list.
While marketing emails need explicit permission from the subscribers, you don't need such consent for transactional emails.
And the transactional emails can be sent from the tabooed no-reply email addresses also.
Benefits of Transactional Emails
1. Boosts Customer Trust
Suppose a customer made the payment to buy an item from your website.
And after that, they don't hear anything from you.
No confirmation email.
No shipping details.
Radio silence.
Do you think that customer is coming back to you for a second purchase? Most probably, no.
That's what happens when you don't engage with the users at the right time. You lose trust and credibility.
Transactional emails improve customer service and build confidence in your company. It also opens the channel for customers to reach you with queries or concerns.
2. Improves Brand Recognition
Out of sight is out of mind.
Brand visibility is critical to retaining customers in this fiercely competitive market. When you update your customers on a timely basis about their journey with you, they will clearly see the brand logo, name, and efforts.
It reinforces the relationship and adds a sense of familiarity to your brand. And when this happens, you can expect the customers to recommend you to their friends and family.
3. Rekindles Customer Engagement
The customer might forget to visit your website, and the marketing emails might get ignored.
So, how can you win back the distant customer?
Transactional emails help engage the customer with the to-the-point messaging that seems to be created just for them.
For example– if the customer has some items on their wishlist, you can send an email reminding them about it. Or inform them when the price on their liked products drops.
Such targeted messaging turns the inactive customers around into regular ones.
4. Creates Sales Opportunity
Transactional emails have better open rates, so it's an excellent opportunity for you to put across your products and the value they can bring to a user's life.
Even if subscribers don't click on the CTA or make a purchase, they will still know your offerings. So, the next time they want to buy something, they will keep you in mind. And that's also a big win for you as you have successfully raised product awareness.
Examples of Transactional Emails
1. Account Verification Email
These emails act as a double opt-in for your subscribers. As soon as they create their account, this email asks them to verify their email address. Thus, eliminating the chances of fake or spam addresses.
Key Takeaways:
Brand logo or name in the header for quick identification.
Personalization in the greeting with the user's name.
Clear CTA with a prompt to confirm the email address.
A short video link to get started with the product.
A creative signature giving it a human touch
2. Order Confirmation Email
The email that goes out after a successful purchase from your website.
Source
Key Takeaways:
Distinguished CTA to track the order status.
Use of '3 Ws' in the email, describing what product was ordered, where it will be distributed, and when it will be delivered.
Footer with a great copy that conveys the brand's mission and why the user should be proud of their purchase.
Link to get in touch with their support team in case of any concerns.
3. Order Delivery Confirmation
The email is sent to the user to confirm their successful product delivery.
Key Takeaways:
Engaging copy that invokes excitement for the product delivery.
Details of the product that are delivered.
CTA to view order details that will redirect to a landing page for returns/exchange.
A section detailing how to care for the product that engages the reader further and guides the user on best practices.
4. Customer Feedback Email
It's a standard business practice to collect customer feedback after every product delivery to understand what they think of your services. It's a great insight for you to track to improve your processes.
Key Takeaways:
A simple email with a focus on the products that need to be reviewed.
Product images are accompanied by a star rating format, which makes it easier for the user to take action.
The CTA for writing a detailed review under each product image.
5. Cart Abandonment Email
You can trigger this email to the customers who have left some items in their cart. It's a great way to re-engage the users with the website.
Source
Key Takeaways:
A message of free shipping at the top to attract the customer.
The creative copy with tongue-in-cheek humor.
Mentioning that the free shipping offer is about to expire creates a sense of urgency among the readers.
Images of product and their details, along with the bold CTA to redirect to the cart.
6. Password Reset Request Email
In case a user forgets their password, you can send them this email to regenerate another.
Source
Key Takeaways:
A short email with a focus on the 'Reset Password' CTA.
Mention that the link is valid for only 24 hours for security reasons.
Signature at the footer with brand logo and image to build credibility.
7. Account Deactivation Email
If your ESP has access to the users' last login date, then you can trigger this re-engagement email to them. Even if the contact doesn't reactivate the account, it's beneficial to you as you will have a cleaner contact list of only active users.
Key Takeaways:
Breaking the email with the news of tentative deactivation to catch the user's attention.
Mentioning why the account is being deactivated.
Providing an alternative to keep the account active, along with a deadline.
CTA of 'Sign In' to make it easier for the user to log in and increase the chances of retention.
8. Order Cancellation Email
The order can be canceled due to several reasons. Either the customer changed their mind, or you can't ship it to them due to logistic constraints.
Irrespective of the reason, an order cancellation email updates the customer of the same.
Key Takeaways:
Honestly informing the customer of the reason for the cancellation.
CTA to check the account for more details.
Sharing details of the product that is canceled.
Recommending the replacements, they can try based on other similar customers' purchase history.
9. Trial End Reminder Email
If you offer free trials or demos to your customers, it's crucial to inform them when it ends.
It's the perfect moment for you to convert these free customers into paid ones as they have just witnessed your services.
Key Takeaways:
Starting the email with the news of the trial ending.
It's followed by the CTA to view plans. The action button mentions the cheapest plan to improve the click rate.
Addition of customer reviews to build credibility and trust. It plays a vital role in winning customers and assuring them of their purchase.
The signature has a link to extend the trial if the customers aren't sure yet.
Start With the Right Tools
Transactional emails are a super convincing way to bring customers to your website. It can be your goldmine of additional sales while building customer loyalty.
But it's only possible if your emails are actually landing in your customer's inbox.
That's where email deliverability comes into the picture. To ensure that your efforts don't land up in spam, use the right tools to test and improve email deliverability.
Start revamping your transactional emails with assured deliverability through SendPost. It's a perfect tool that empowers your ESP with the email API to detect any deliverability issue.
Its real-time alerts and bulk email APIs make it a flexible and reliable solution that promises a 99% delivery rate.