Did you ever have experience with an abandoned cart email or an order confirmation in your inbox? Then you're already familiar with transactional emails. They are automatic emails sent when clients do a particular act: establishing a subscription, making a purchase, or changing the password.
We've created a list of the 12 best transactional email examples to help you provide your customers with an exceptional experience.
Types of Transactional Emails
Before we continue, it is important to mention these six primary types of transactional emails:
Double opt-in confirmation
Password reset
Abandoned cart
Order confirmation
Payment confirmation
Order cancellation
Seek some inspiration from the 12 examples below.
1.Emails Confirming Account Activation and Verification
You're all set to go! When you pay for a subscription or create an account, you will most probably receive an email confirming your account activation and/or verification.
The most effective emails will:
Maintain a cheerful tone.
Assure customers that the procedure will be quick.
Make the email message easy to read by keeping it short and to the point.
Add an electronic signature software for customers to have a closer and warm experience when they receive an email.
Consider, for example, Avocode. They keep it simple in their account verification email and provide all of the necessary information: When the verification link will expire and what they need to do to finish the procedure.
2. Welcome Email
Welcome! If your customers have recently begun a subscription or are consuming your digital product, you should send them a welcome email to walk them through the process.
When producing a transactional welcome email, keep the following points in mind:
Provide a summary of your service's features and how your target audience may benefit from them.
Mention any additional services. For example, if you also run a blog, you can offer your clients the opportunity to become new subscribers.
In addition to the welcome email, consider sending a

handwritten thank you

card to your customers to stand out from competitors.
Karen Millen provides a welcome email with a list of their top options and guides to help customers get started after subscription.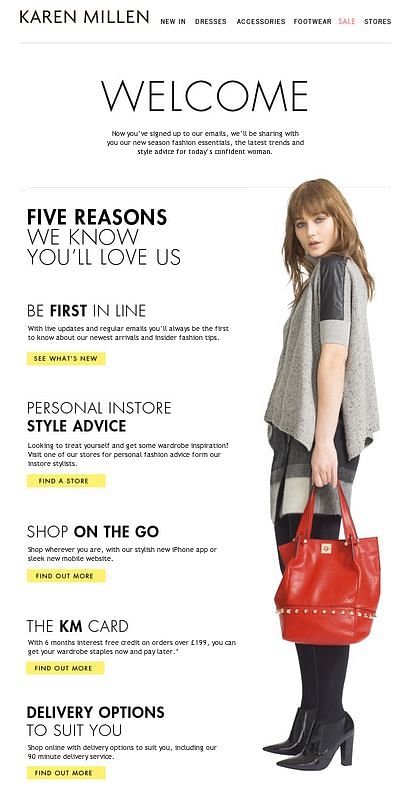 3.
Email with the Password Reset Instructions
Oops! Someone lost their password. It's not a genuine concern because they can quickly restore access to their account using password reset emails.
Keep these elements in mind when creating a password reset email:
To build trust, personalise the email using the

e-signing software

and address the recipient by name.
Include a clear subject line that says 'password reset.'
Share a password reset link or attach it to a CTA button.
Inform the recipient of what they need to do if they did not request a password reset.
Notify the receiver of the link's expiration date.
We like this Vimeo password reset email since it's clear, straightforward, and tells the recipient precisely what to do.
4. Account Deactivation Email
When a client deactivates their account, it can be upsetting, but it is still a chance for you to stand out and ensure that the client has an excellent experience from beginning to end.
Some of the tips for creating an account deactivation email:
Include the individual's account information for future reference.
Explain what comes next in terms of billing, expiration dates etc.
Maintain a warm and personal tone in your email content.
Add a CTA for clients to reactivate their account if they got it wrong or changed their minds.
A good transactional email tells precisely what will happen next, with crucial steps and suggestions that their ex-customers should follow.
5. Email Confirming the Order
Order confirmation emails are crucial since they convince your clients that their purchase was accomplished
When creating an order confirmation email, consider the following:
Use the '3 Ws' in your email, describing what product was ordered, where it will be distributed, and when it will be delivered.
Encourage your consumers to take the next step, whether it's seeing their order in the browser, monitoring their purchase, or following you on social media.
At the bottom of the email, include cross-sells (items that would suit their purchase) or up-sells (products that are more costly models) as suggestions.
West Elm additionally displays a photo of the purchased product so that buyers can become even more thrilled about what they've purchased. There is also a clear CTA button for them to check their order online.
6. Email Confirming the Purchase Cancellation
Perhaps your buyer canceled their order, or maybe you were forced to cancel it due to an unexpected issue. Whatever the cause, an order cancellation email must be sent to the customer to inform them and explain the following steps.
While creating the email, remember to incorporate:
The name of the customer
The date on which they placed the order
A list of items that have been cancelled
The cause of the cancellation (optional)
Upcoming steps for refunds or vouchers
Superhub has an excellent example of order cancellation emails as they include a list of cancelled products, the name of the customer and more additional information.
7. Email with the Shipment Confirmation
Your order has been sent! This is without a doubt one of the most thrilling emails to arrive in our inboxes. Include a CTA that customers can click to track their delivery.
Fitbit's shipment confirmation email meets all the criteria, including a helpful package link at the top of the page that lets customers follow their orders in real-time.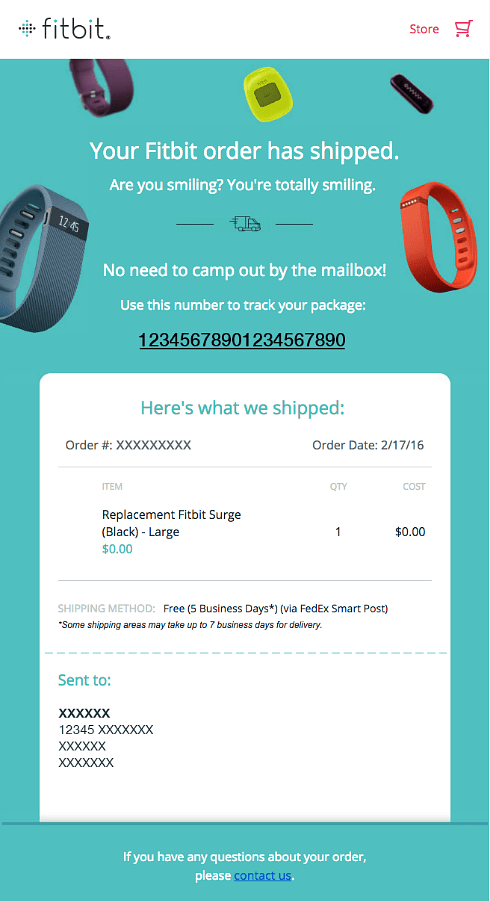 8. Delivery Confirmation Email
A delivery confirmation email is quite helpful to the receiver, especially if they are at work all day and are wondering if their purchase has arrived.
In your delivery confirmation, you should remember to include:
Insert the time and date the package was delivered.
Provide a link to contact customer service in case there are some potential problems.
Potentially send a follow-up handwritten card for your company to leave a great impression on the customer.
This Ralph Lauren delivery confirmation email is brief and to the point, indicating when the product was delivered. It also includes easy links for the consumer to view order details, order history, or track the parcel.
9. Customer Feedback Email
You can follow up with your consumers after they've purchased to learn more about their experience! When creating the content, bear in mind that you only have a limited amount of time to capture their attention, so keep it short and straightforward. In the email design, include emoji symbols and number ratings so that receivers can provide fast input.
Here are a few extra things to consider:
Begin with a personalized opening to establish a connection.
Explain the purpose of the feedback but keep it concise.
Specify how long the survey will take.
Don't forget to say thank you.
This Society6 customer feedback survey covers everything. It's brief, polite, and practical, with an integrated survey. Customers with limited time can partake with only a few clicks.
10.
Abandoned Cart Email
These emails are ideal for customers who added items to their shopping cart but never checked out. There are a few things to include so that your fun and creative email may motivate customers to come back and complete the purchase:
Give the recipient at least one great reason to finish the purchase.
Use a countdown timer to offer a discount that will expire shortly.
Include positive reviews to encourage new consumers to purchase.
Missguided's abandoned cart email includes a discount with a promotional code on the products. They also have a few product recommendations as an additional motivation to return to their website.
Somebody has looked at your profile! Social media news such as friend and follower alerts can also activate transactional emails.
For example, this LinkedIn email displays the number of individuals who have visited your profile, with the CTA button 'See who's looking.' Showing real-time statistics is an excellent way to increase engagement and motivate action.
12.
The Advertising Email
If somebody has purchased your product or service, you can include promotion in their order confirmation email or shipping confirmation email.
As seen in the following Sephora example, they frequently include promotions at the top of their order confirmation emails. They could:
Cross-sell: promote items that complement the one that was just purchased.
Show a more costly version of the product as an upsell.
Display previously purchased articles in case you wish to repurchase them
The Final Word
Transactional emails are a valuable tool in every email marketer's inventory. We hope that these 12 best examples have motivated you to write your transactional emails.
Remember that transactional emails are your new best friend if you want to reach a wider audience and boost click-through numbers on your email marketing campaigns.