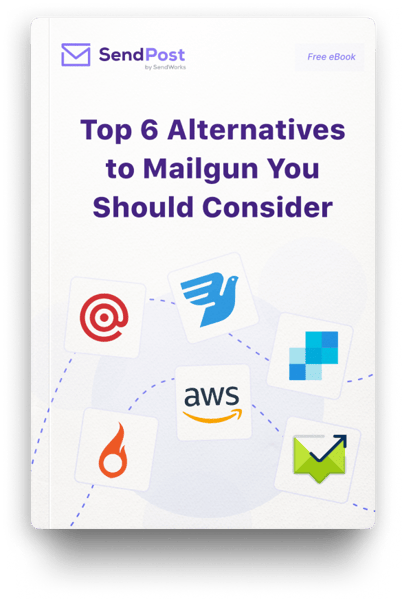 Top 6 Alternatives to Mailgun You Should Consider
Looking for an alternative to Mailgun? Here are the top six of them, to help you choose the one that is just right for your business.
A single glitch can tank your efforts to run a successful email marketing campaign. And you can't afford that when your customer loyalty and business are at stake.
So, you need the right tools to get the job done.
While doing that, the first thing you should think about is your email deliverability tool. Mailgun is a popular choice for shipping emails to subscribers' inboxes. But is it the only option out there? Definitely, no.
Here is everything you need to know about Mailgun and its top 6 alternatives.
Mailgun is an email delivery platform that specializes in sending and tracking your marketing and transactional emails.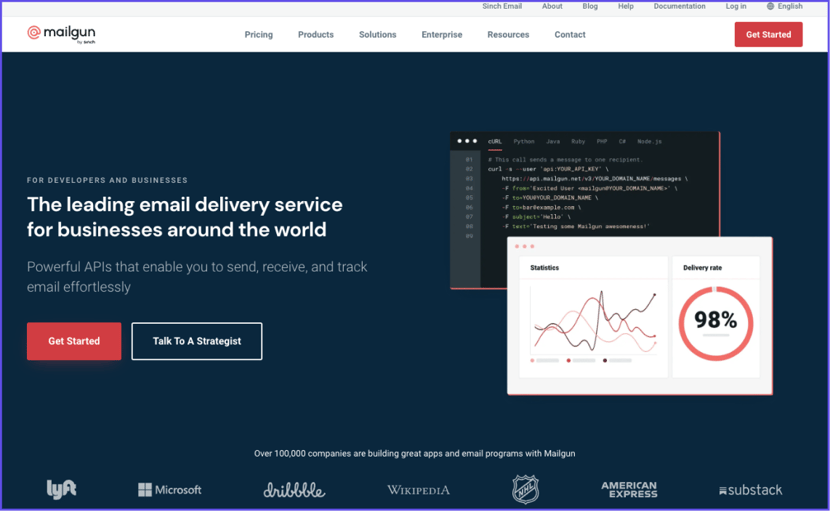 It supports its users with
Email APIs to integrate into your application
Inbound email management for responding quickly to leads
Cloud-based SMTP services for reliable email delivery
Detailed analytics for hourly monitoring and tracking
Send time optimization to get optimum results
Email log retention up to 30 days to detect patterns and irregularities
Apart from this, it has Mailjet in its arsenal as part of the 2019 acquisition. It allows users to improve their email quality with better and more appealing templates.
What Makes a Mailgun So Popular?
No one wants to spend their money and time on email marketing only to get blocked or marked as spam. Good email deliverability gets you the prime spot in the subscriber's mailbox, but the real benefits go beyond.
1. Wide Option For Integrations
Mailgun supports integrations with a wide range of third-party products. Some of the popular ones are Amazon, Drupal, ActiveCampaign, and Dropbox.



It allows its users to create a seamless solution for optimal performance.
2. Ease of Creating Marketing Emails
Mailgun lets its user design responsive and aesthetic emails with its vast template library. The simple drag-and-drop feature allows even non-techy users to create beautiful emails that get the desired responses.
You can even segment and A/B test your emails to drive engagement and conversions.
No matter how well-curated your subscriber list is, a few bad addresses are unavoidable. But to prevent this from impacting delivery performance, Mailgun offers a bulk email address validator.
It cleans the list of invalid addresses containing syntax errors, typos, or incomplete details.
4. Send Time Optimization
Mailgun takes the guesswork out of the email send time. It monitors the reader's activity to suggest the best send time for maximum conversions.
It improves engagement as the right message goes to the subscribers at the right time.
1. Unexceptional Delivery Rate
Mailgun has an average delivery rate of 97%, which isn't impressive considering the industry standard.
It can be a serious concern for enterprise businesses that can't afford to lose any single lead.
2. Nothing to Handle IP Blacklisting
Mailgun offers a pool of dedicated and shared IPs. But it doesn't support the management of IP if it is blacklisted.
It becomes an unnecessary hassle where one will have to constantly monitor and take corrective actions in case an IP is blocked.
3. No Download Option For Logs
The logs are available for only a limited time of 30 days, and the users can't even download them.
It can bring down your analysis strategy and affect your email marketing plans.
Mailgun works on a pay-as-you-grow basis, depending on the email volume and other marketing features.
The plans start at $35 a month with 50k emails and go up to $90 a month with 100k emails.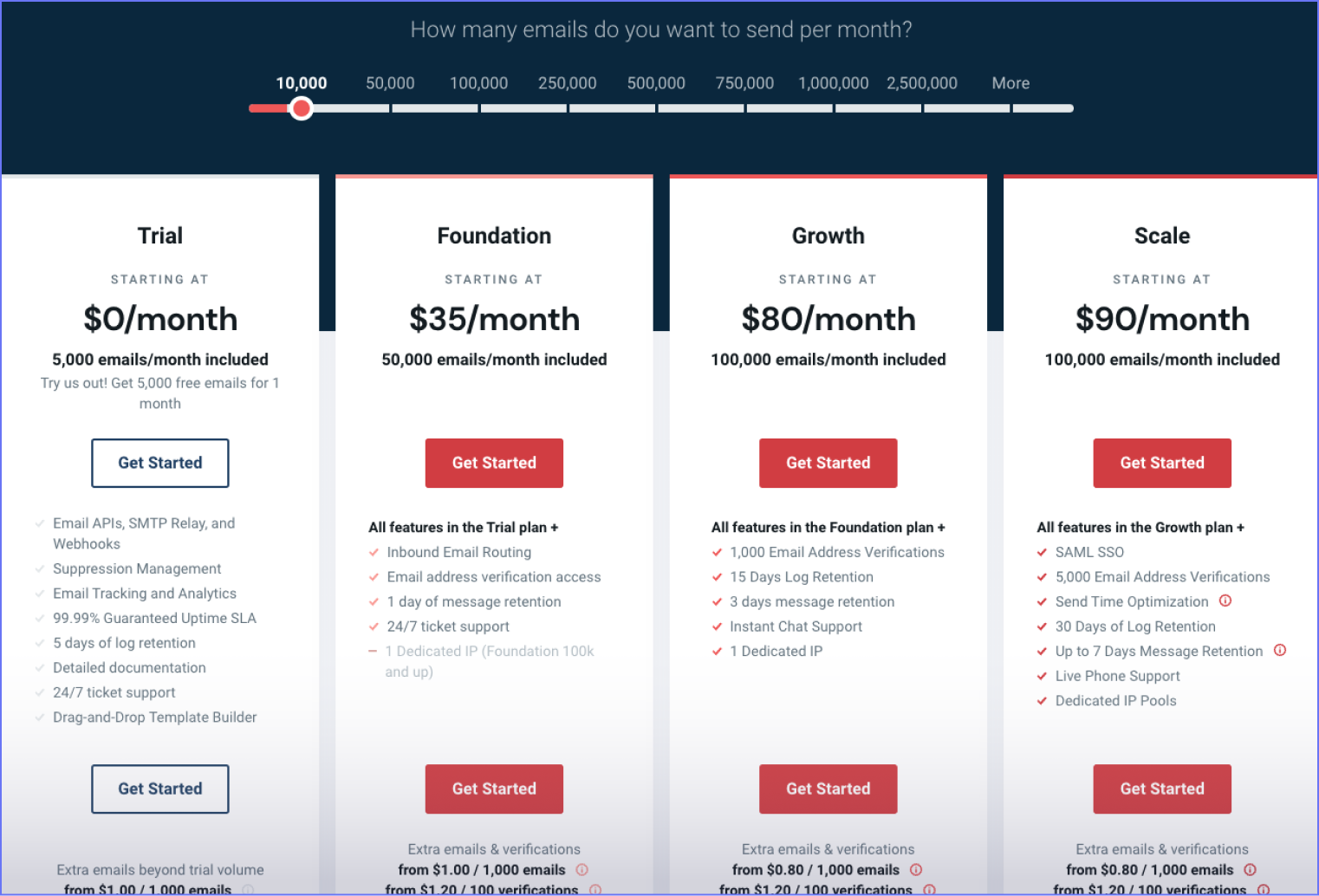 It also offers a monthly trial version with 5k free emails and $1 for the following 1k emails. You can get a custom plan if your email volume is high.
When Should You Look For Alternatives?
1. If You Prefer Prompt Support
Mailgun is not known for its support services. So, if you are looking for an email deliverability tool that assists you with troubleshooting and best practices, then maybe you should consider other options in the industry.
2. Better Email Deliverability Rate
Mailgun faces a big issue while delivering emails to Outlook and Hotmail, where most of the emails are marked as spam. It restricts your outreach and doesn't deliver the expected results.
Overall, Mailgun claims a 97% email delivery rate which is less compared to its competitors.
3. Expensive Player in the Market
It may not be the best option for growing businesses considering the price plans. There are alternatives in the market offering more at much lesser.
Top 6 Mailgun Alternatives
Here is a quick summary you can glance at.
| | | |
| --- | --- | --- |
| Mailgun Alternative | Why Go With it | Why Avoid It |
| SendPost | An affordable solution with a CRM deliverability dashboard, dedicated IP pool, reliable delivery rate, and 90 days log retention. | It doesn't have a free version |
| PowerMTA | A good tool for monitoring and analyzing email marketing campaigns. Provides detailed reports for tracking. | It doesn't support archiving, canned responses, and log retention |
| GreenArrow | Suitable for high volume reliable email delivery | Expensive for small or growing businesses |
| SparkPost | Optimizes email performance by collecting data from past user activity. | Account gets suspended due to guideline violation |
| SendGrid | Protects data security and email APIs allows easy scalability | Expensive option with limited cross-platform integration |
| Amazon SES | Easy integration with Amazon environment and handles bounce automatically | Strict guidelines for email delivery which violated can lead to permanent account suspension |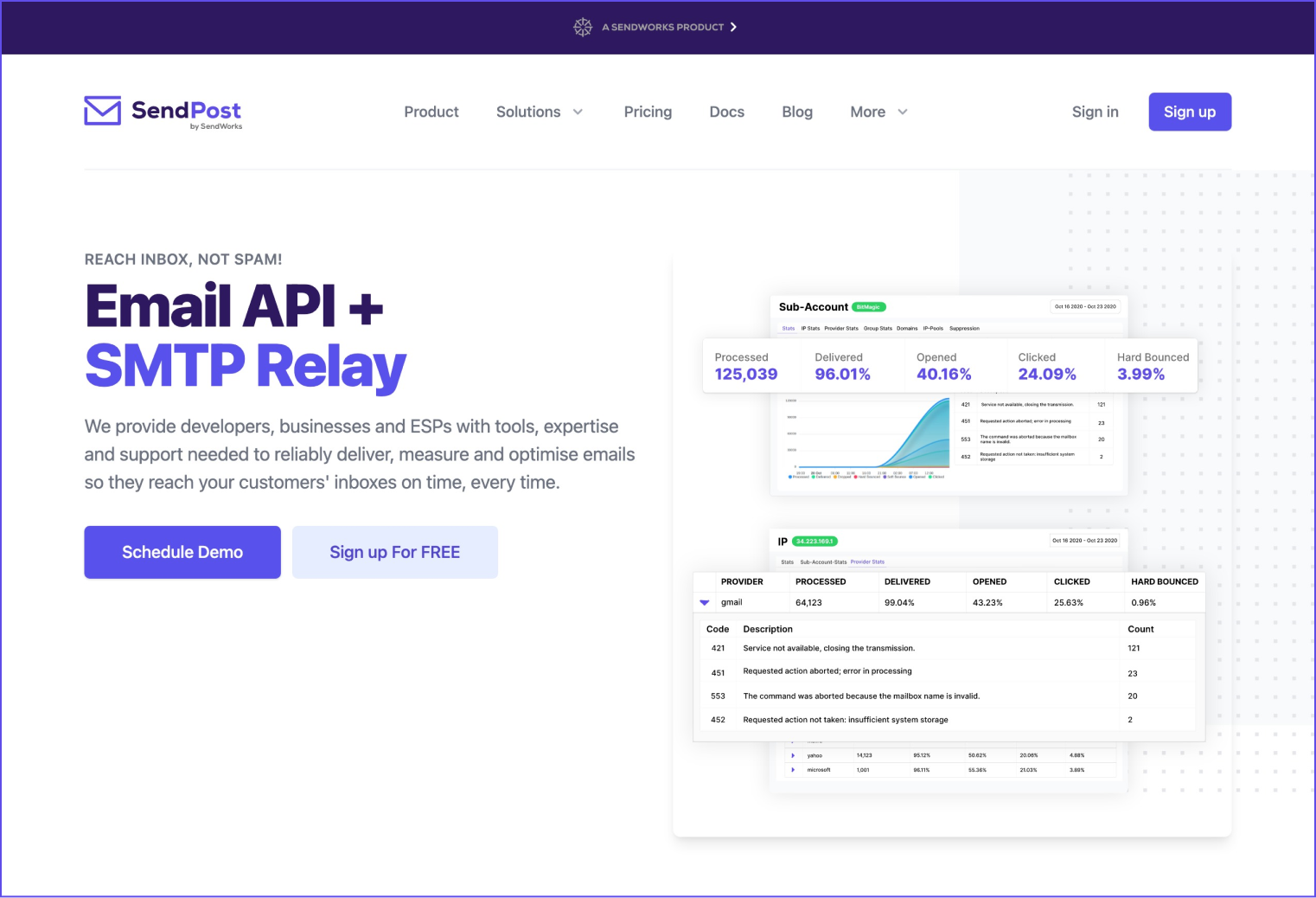 Consistent & Reliable Email Delivery:
SendPost boasts of over 99% average email delivery rate. It means you can send a high volume of emails to any email service provider without worrying about whether it reached your subscriber or not.
Deep Analytics With Reports Dashboard:
You know what is more challenging than sending bulk emails- making sense of the data afterward. SendPost takes away this headache by offering a deliverability CRM dashboard to users. It gives a complete insight into bounces, delivery rates, and blacklisted IPs. It allows users to identify, analyze, and correct any deliverability issue quickly.
Smart Alerts For Real-time Monitoring:
You don't need to stick your eyes to the screen to monitor the email delivery performance. SendPost sends real-time alerts to email or Slack as soon as there is a dip in the delivery rate or an increase in the bounce rate. It saves your time and avoids any major goof-up.
Easy to Scale:
SendPost has a collection of simple email APIs that are easy to set up. It allows flexibility to advance your processes as your business grows. Also, the features like email-rate limiting, throttling, and intelligent routing, let businesses improve their marketing performance.
Value-for-money:
SendPost has a pretty straightforward pricing plan. Its plan starts at just $7 per month and offers 10k free emails. You can upgrade your plan easily if you require more monthly emails.
24/7 Reliable Support:
SendPost offers its users 24/7 email and chat support, making onboarding and setting up campaigns a cakewalk. It's especially useful if you are from a non-tech background.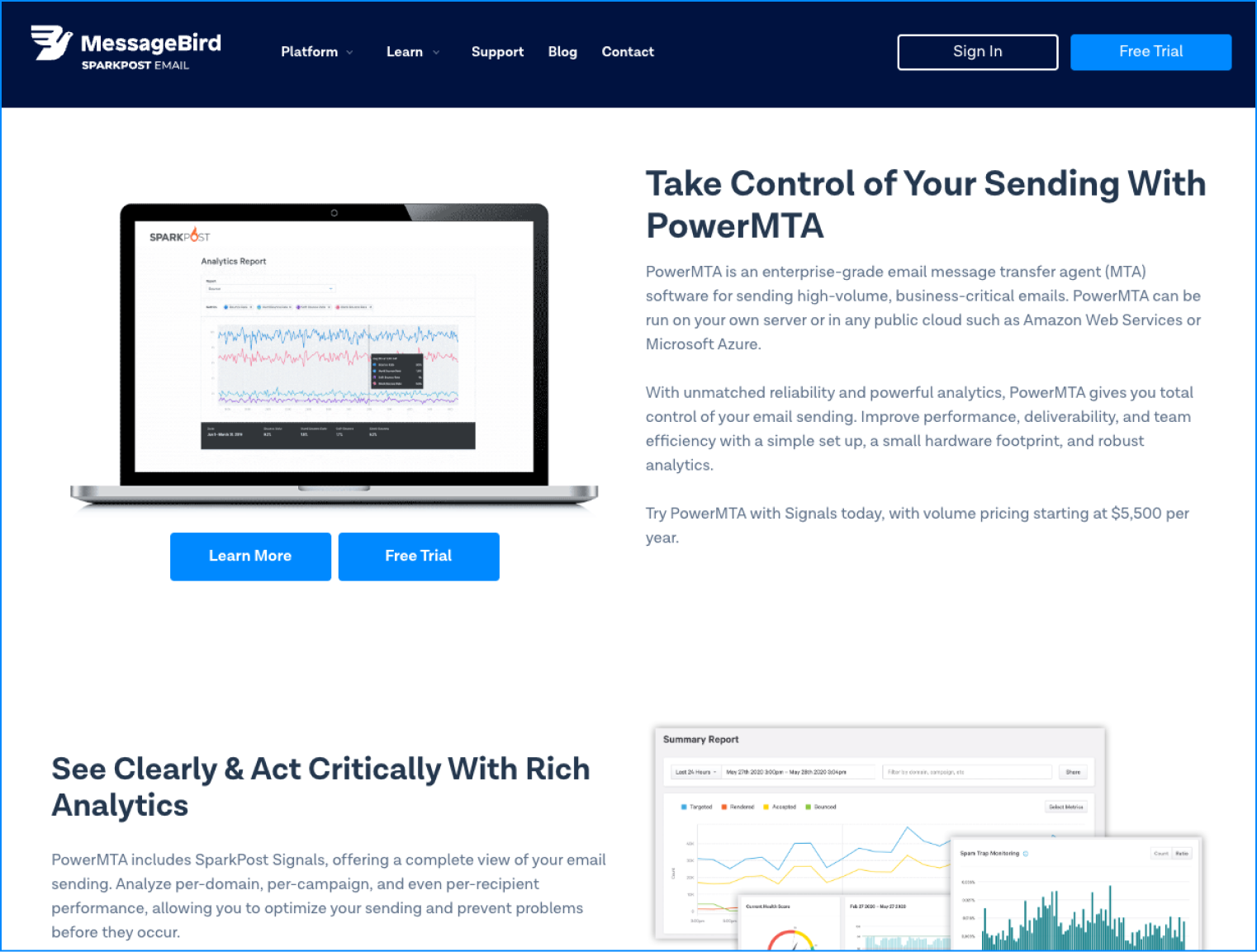 Here's a complete guide to PowerMTA's features and plans if you wish to dive deeper. Below are some key attributes that make it a good alternative.
Detailed Root Cause Analysis:
Many email deliverability tools just give you a number under failed delivery. PowerMTA checks every failed email for detailed cause analysis. It reviews delivery failure with more than 35 metrics to identify the problem and offer the correct solution. It makes handling frequent issues like bounces, blocks, and spam effective.
Scalable and Saves Resources:
Often, message transfer agents, max out at even low send rates. But setting up new servers every time you see a declining delivery rate would be a quick way to burn cash and efficiency. One of the other reasons why PowerMTA is popular among email marketers is that it can give more throughput on fewer servers, saving you money and time.
Active Performance Monitoring:
Wouldn't it be perfect for spotting the issue before it becomes an irreparable goof-up and ruins the entire email campaign? PowerMTA monitors the SMTP responses and watches out for any deliverability errors. The real-time deliverability issue lets its built-in WebUI react and handle the problem the moment it occurs.
Advanced Reports:
PowerMTA has built its set of flexible reports that are continuously improved for advanced bounce analysis and real-time campaign tracking. It ensures that your email marketing stays updated with the changing industry trends.

GreenArrow is an intelligent email delivery platform that supports its users with on-premise and cloud services. The plan for on-premise services starts at a monthly lease of $600 with 100k/hour email delivery, while the cloud service plan starts at $250 per month with 300k emails.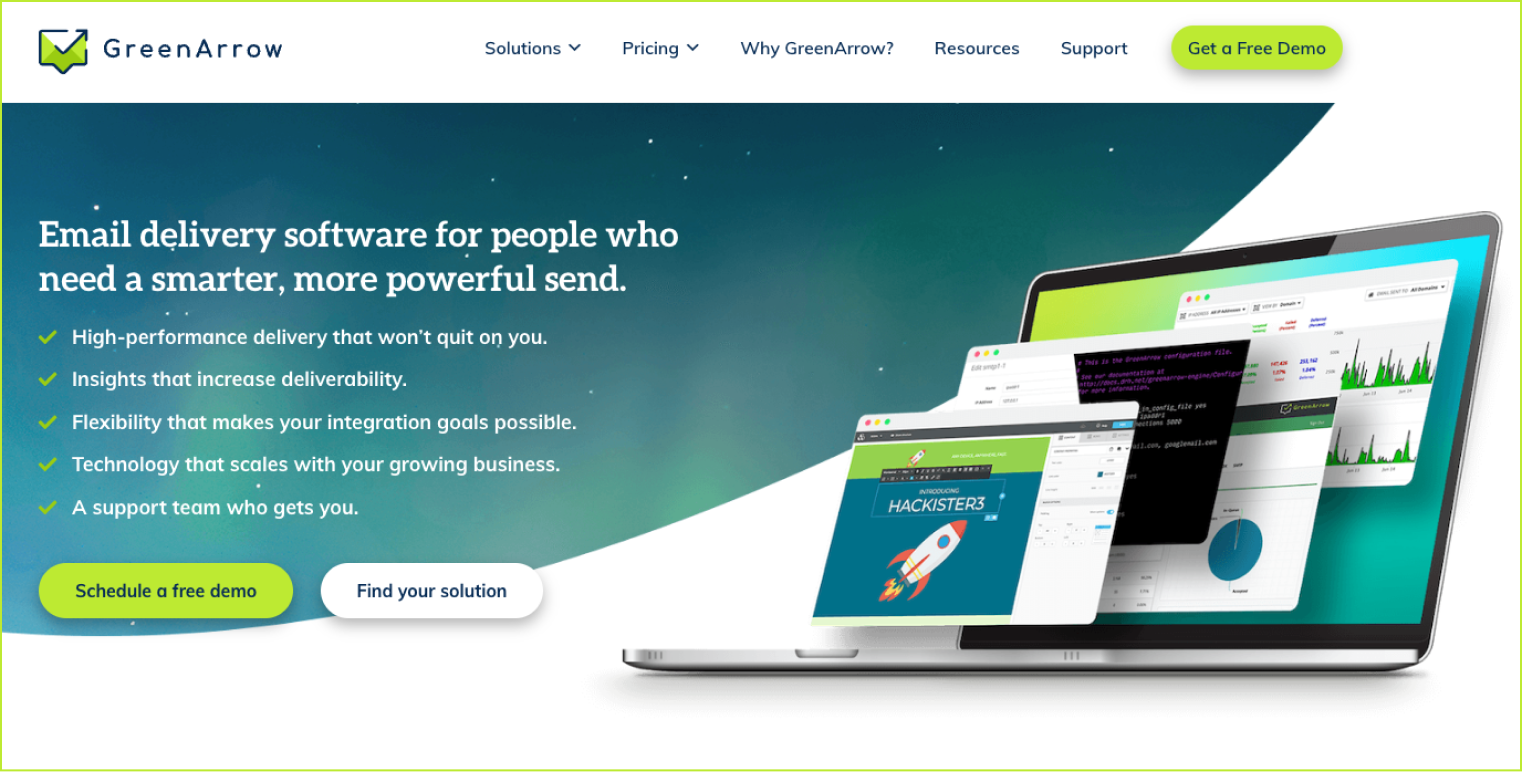 Suitable For High Volume Senders:
GreenArrow is primarily for big enterprises, email service providers, and technology solution consultants. It delivers 8 billion monthly emails on average.
Secure & Flexible:
If you are an email service provider, you would not want to compromise the high performance and the ability to scale. GreenArrow supports its users with on-premise and cloud services which can be integrated easily with the existing setup.
Inbox Monitoring:
GreenArrow lets you monitor your email delivery performance by tracking the real-time status. It uses seedlist-based monitoring to test hundreds of email addresses from different Internet Service Providers.
Email Marketing Studio:
Their built-in email designer lets users create appealing and responsive emails. The drag-and-drop email editor makes it easier to edit and preview changes.
White Label Email Delivery IPs:
You can allocate dedicated IPs for your email delivery and even whitelist those to improve deliverability.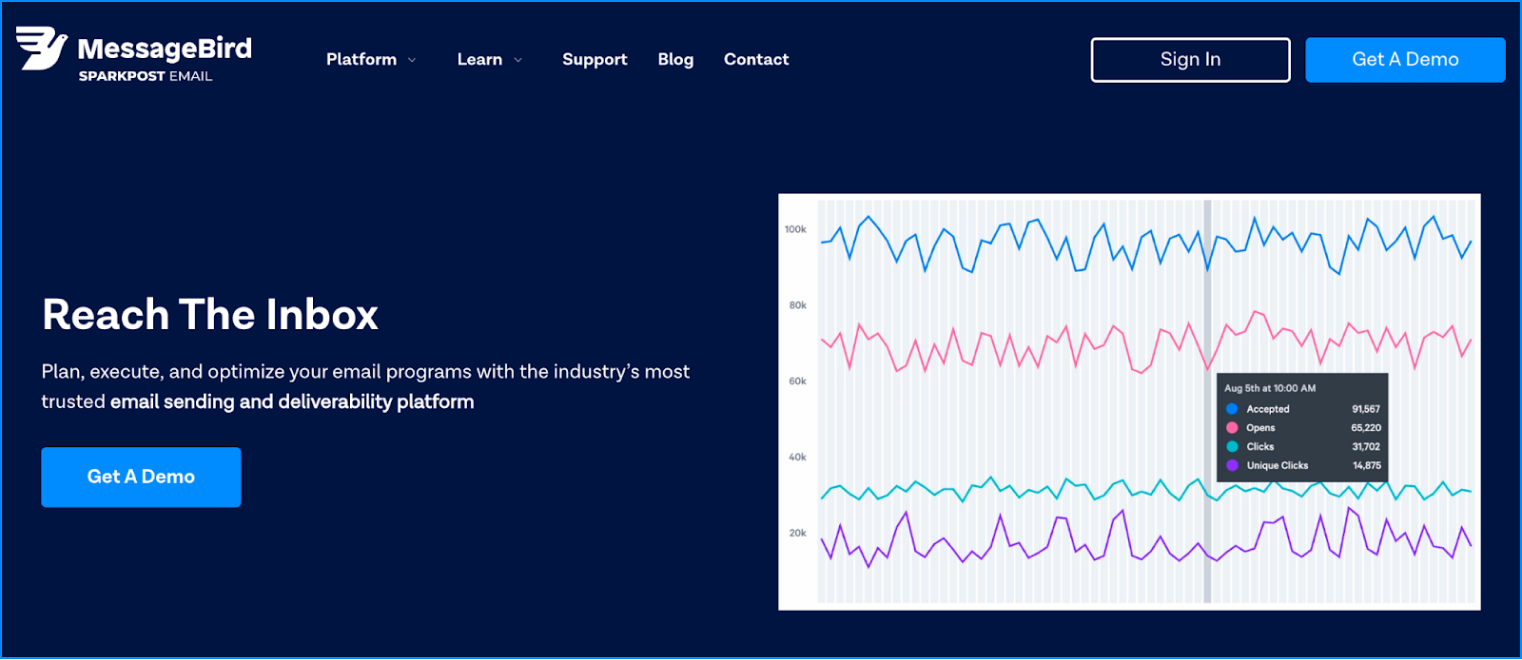 Adaptive Email Delivery:
It aggregates real-time delivery data by monitoring the millions of emails sent and optimizes your email campaign for the best results.
Dedicated Support For Enterprise Accounts:
SparkPost assigns a dedicated technical account manager to the upgraded plans who keep an eye on the performance and suggest the best practices. It's a helpful tactic to boost returns on investment.
Full-Featured Email APIs:
SparkPost has a whole collection of email APIs that can help users in designing email templates, sending emails, tracking reports, etc. And the APIs are not even difficult to use. The documentation and their support team make it easier for clients to get started.
Competitive Email Tracker:
The unique feature SparkPost has is competitive email tracking. It helps you monitor and compare your email performance with your competitors. To improve your email marketing efforts, you can judge the domain health, brand outreach, deliverability, and other metrics.

Keeps Data Safe & Secure:
SendGrid takes extra security measures to keep your data secure and private. It complies with standard security guidelines like SOC and GDPR. The users' accounts are secured with API keys, two-factor authentication, and TLS encryption. It has also introduced Single Sign-on (SSO) to let the users manage account permissions.
Reliable High Volume Delivery:
SendGrid delivers over 7 billion emails on Cyber Monday without any issues. It sends over 100 billion emails on average every month.
A product that can handle such a high volume can do so only because of a dependable architecture. It also lets users scale their operations without waiting days to arrange relevant resources.
Easy to Install Setup:
SendGrid is known for its user-friendly interface and easy-to-use features. This makes it accessible to a broader market, with beginners to experienced professionals as its users. Users can get started quickly with the ready-to-use library of responsive email templates. One can even design their own template with the drag and drop feature.
Power to Scale Quickly:
SendGrid is a versatile and flexible platform that users can customize to meet the specific needs of different businesses and organizations. It is also highly scalable, allowing companies to easily add more users, email addresses, and other features as their needs grow.

Amazon SES (Simple Email Services) is a cloud email service provider for businesses worldwide for bulk email communication.
The plan starts at $0 for up to 62k emails. But there are additional charges for the size of attachments and IP. After 62k, $0.10 is charged per 1000 emails.

Integration with Amazon Web Services (AWS):
Amazon SES is closely integrated with AWS, allowing businesses to quickly and seamlessly use the platform alongside other AWS products and services. It can be especially useful for companies already using AWS for different aspects of their operations.
Automatic bounce and complaint handling:
Amazon SES include automatic bounce and complaint handling, which can help businesses to maintain their sending reputation and improve their deliverability. It can save businesses time and effort and help ensure their emails are delivered to their subscribers' inboxes.
Easy-to-use interface:
Amazon SES has a user-friendly interface that is easy to navigate and use, even for users with little or no experience with email marketing and deliverability. This makes it accessible to a wide range of users and can help businesses to quickly and easily get started with the platform.
Why Should You Choose SendPost?
Finding the perfect email deliverability tool can be difficult. But it certainly isn't impossible.
We recommend SendPost to all businesses, irrespective of whether it's growing or an established enterprise. It has an arsenal of features for everyone at a price that suits them.
SendPost is designed to tackle the headache and frustrations of an email marketer who wants to send high-volume emails without emptying their pockets. Its easy-to-use email APIs make the setup a breeze and lets you get started on day one. The assurance of over 99% email deliverability lets you relax without worrying about missed opportunities.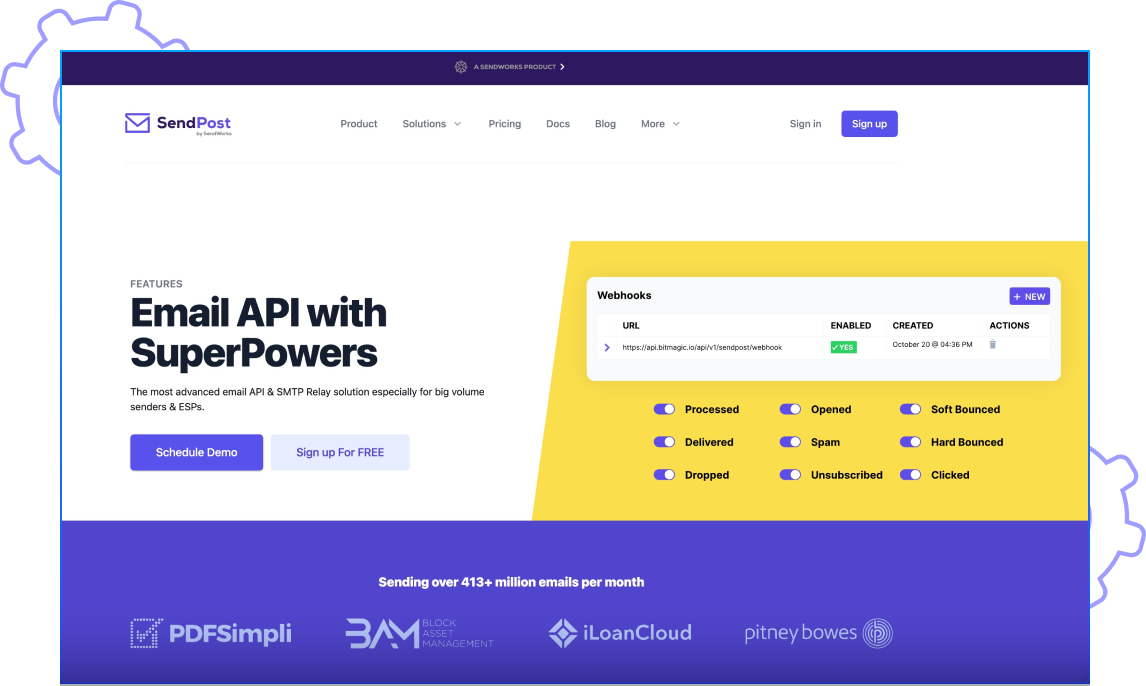 But simply sending emails is not enough. You need to track and monitor the data, too, to understand your audience and make continuous improvements. It provides a dedicated CRM deliverability dashboard to its users to keep an eye on the real-time campaign performance. Also, the automatic email alerts help you stay at the top of your email marketing game and nip the issue as soon as it arises, saving a major disaster from happening.