If you see a drop in the open- and click-through rates of your emails, see an increase in bounce rate, or find out that your emails are not getting delivered to people on Yahoo or Gmail or any other ISPs, then it's time to suspect that something is wrong with your email deliverability.
There can be many ways to avoid such a catastrophe. There are four main aspects to watch for:
Reputation: Fewer complaints, no spam traps, no blacklists, few hard bounces and soft bounces help you build a strong reputation.
Authentication: Things as Sender Policy Framework, digital signatures, and email encryption (TLS) confirm authenticity.
Infrastructure: If your email volume is high & email deliverability is hurt, move from a shared IP to a dedicated IP. This takes some extra time and money but will pay off.
Content and design: Not directly related to email deliverability rate but are responsible for high open-rate, good click-through-rate that signals to the ISP that your emails are valuable and the sender is legit. Send relevant content with an aesthetically pleasing design, responsive behavior, catchy subject lines, the perfect balance between images and text.
These are just four factors but as you can see, a lot goes behind the scenes in each of the areas.
On top of that, rules and checks by spam filters & ISPs keep changing. So the only way to know the absolute email deliverability score rate is to send your emails and see what happens.
But as smart marketers, we can't really just rely on luck and not test. So what's the option?
Thankfully, just like you have a lot of email service providers in the market, we also have email deliverability tools.
So, if you...
Send thousands and thousands of emails every month.
Feel like the results of your email campaigns could be better.
Want best in market tools to help you maximize your email deliverability

...then this guide is for you. We have analyzed 7 tools to test email deliverability based on features and pricing.
This tool offers monitoring and lookup solutions to ensure that you have enabled Sender Policy Framework (SPF), DomainKeys Identified Mail (DKIM), and Domain-based Message Authentication, Reporting & Conformance (DMARC). Don't know what this gibberish means? No worries, we wrote a detailed guide about this here.

MxToolbox also provides you with information on:
Who is sending email purporting to be from your domain
What is the reputation of your senders' IPs
Geolocation of your senders
You also get an immediate alert to changes in your email reputation.

Free users receive one free monitor with access to the top 30 blacklists.

Paid users get access to multiple monitors, more blacklists, and advanced email delivery tools.

Paid users also get access to their dedicated teams to help you understand the causes for your blacklisting and what you need to do to improve your email configuration to avoid blacklisting in the future and improve your email delivery.

Pricing: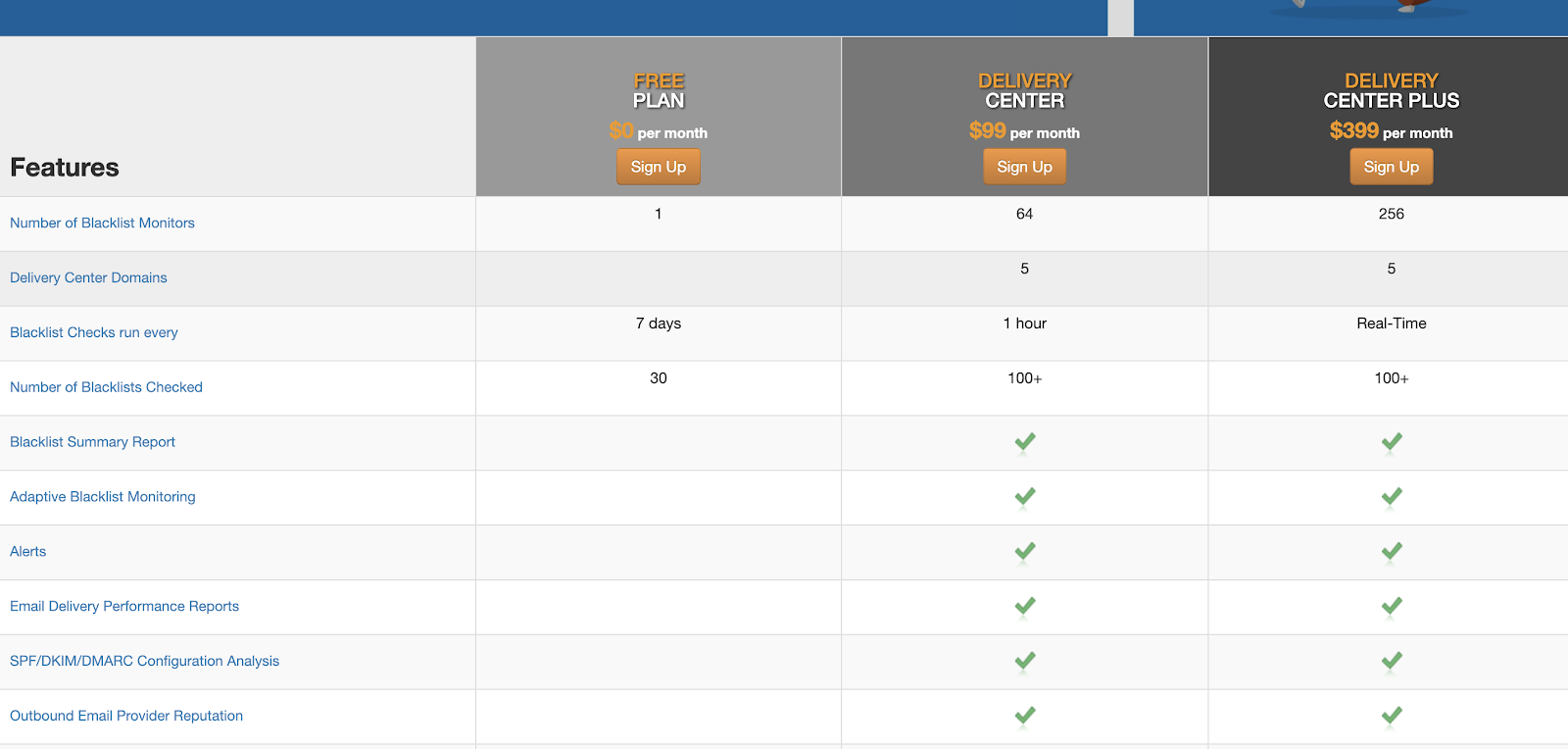 2. GlockApps
GlockApps is a deliverability and testing tool in one place, to run a focused email spam test.

It shows your delivery results in real-time for each seed list account. (A test ID and a list of email addresses across the top ISPs - Gmail, Hotmail, Outlook, Yahoo, AOL, and others - is called a seed list.)

You can see whether your email landed in the Inbox, the Spam folder, Gmail's Promotional or Social tabs, or was never delivered at all.

They also test authentication records like SPF and DKIM, sender IP address reputation, sender score, and message spam score. After the analysis, a detailed report about what elements in the email are increasing your spam score is sent to you.

Their spam testing tool can be integrated with MailChimp to allow the MailChimp users to easily test their email campaigns directly from GlockApps.

GlockApps Bounce Monitor, a tool that tracks bounced emails & collects all the analytics, can be integrated with Amazon SES, SparkPost, SendGrid, and Mailgun.

Pricing:
You can get a free trial which includes three free spam tests. After that, you will need to choose a paid plan to continue.

They offer annual, monthly, or on a per-test basis plans. There is a 20% discount if you go for an annual plan.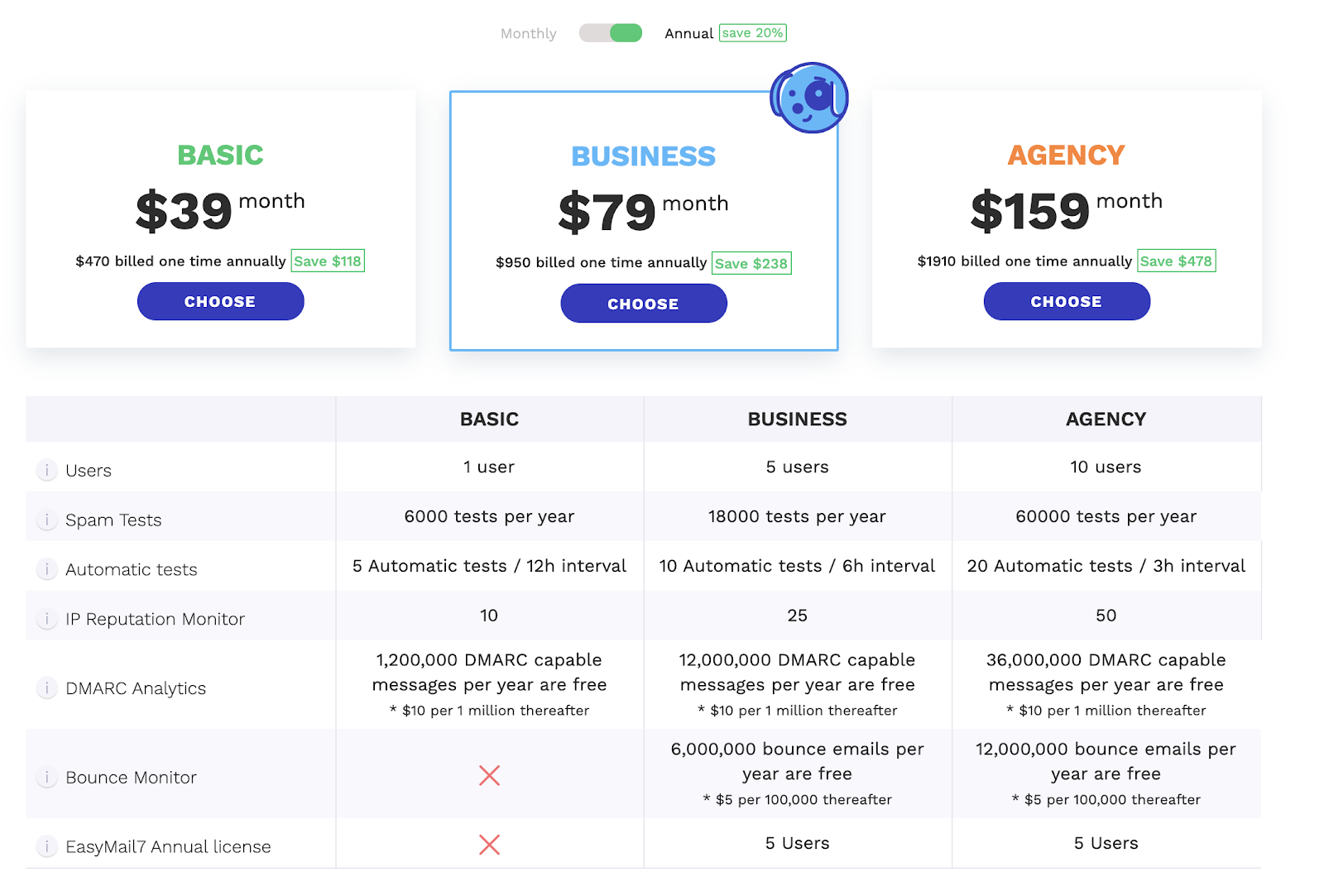 3. Spamcheck
Spamcheck is an easy to use tool that judges the deliverability of your email by analyzing its content & giving it a score. You simply paste your email's HTML code into the box, along with all the headers.


It will give you a score that can be zero or above that. Anything close to 5 or higher will most probably be marked as spam by your subscriber's email providers.
Note: The lower score you get here, the better it is.



You can also get details about how to improve your email, addressing:
The quality of links in the content
Authentications of the sender domain
Text to image ratio
The quality of HTML used to draft your email
Pricing:
They offer their API for free so you can integrate Spamcheck into your app and automatically run spam checks on all outgoing emails. You can try it here.
4. MailTester
Created by geeky email software engineers, it's a cheap, simple, and efficient way to quickly test the quality of your newsletter.

MailTester will analyze your message, mail server & sending IP. It will then generate a detailed report of what's configured properly and what's not. Your result will be accessible for 7 days with the free version, or for 30 days if you choose a paid plan and create an account.

If you occasionally perform manual tests, you can access their web-interface for free, without even creating an account.

Features provided under a paid plan:
Integrate mail-tester results in your own application either by using an iframe or their JSON API
Customize the CSS of the result page
Fully white-label our service Get statistics about your tests (daily, weekly and monthly usage)
Get a listing of all tests performed within the last 30 days
No advertisement on your tests
No expiry date on the tests you purchase and you can purchase additional tests at any time you want with the same account

Pricing: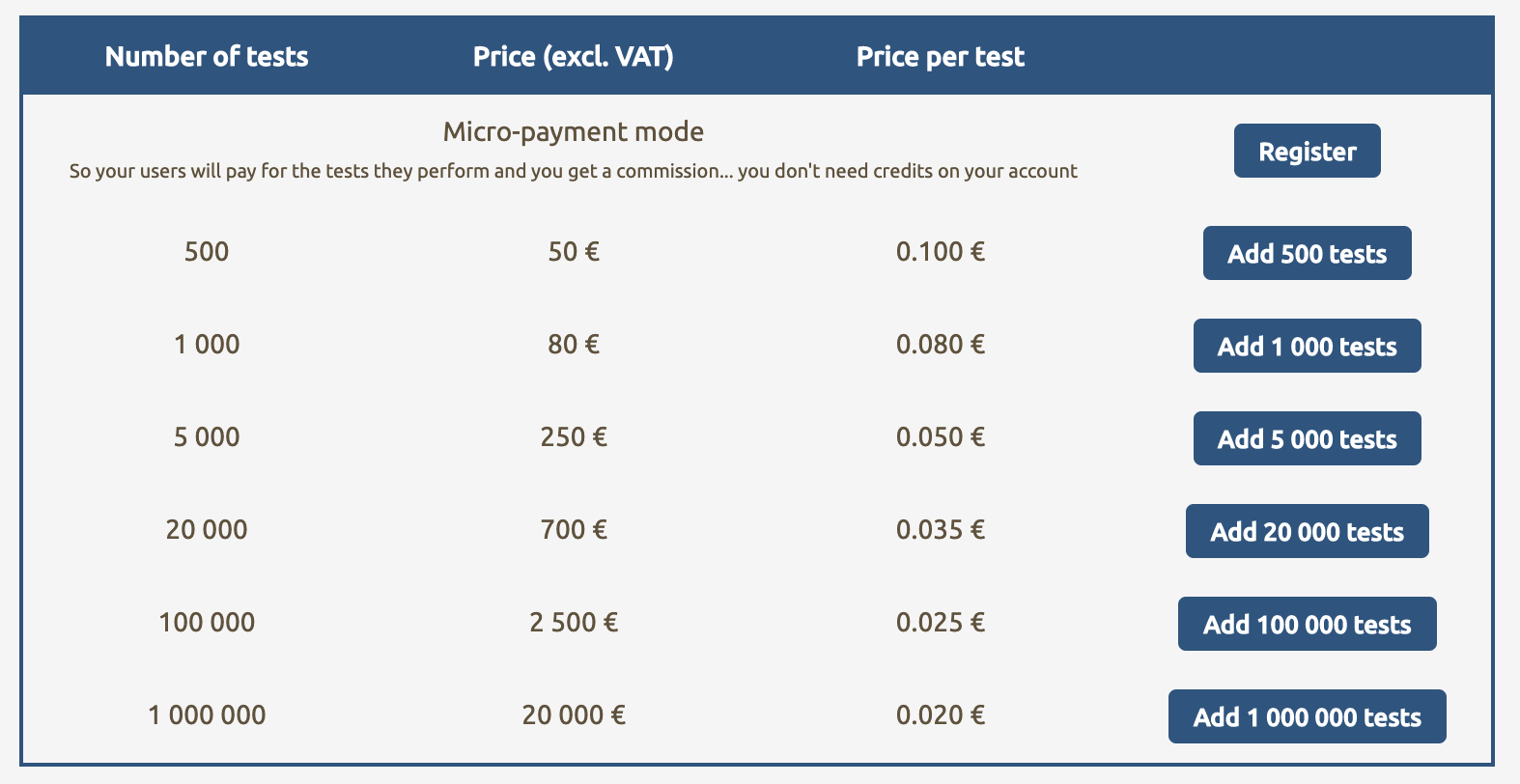 5. SendForensics
It's a standalone email deliverability system that helps your email marketing regardless of your chosen sending platform.

Features provided:
Test and optimize your campaigns BEFORE you broadcast.
Needs no integration or complicated setup.
Detailed content, infrastructure & reputation analyses.
Built-in compliance keeps you informed of the latest updates in the changing global legalities of email marketing.
Free testing, monitoring & deliverability alerts.
Multiple ESP plugins are available.

They offer a free email deliverability test. You just need to sign up & add the unique email address provided by them to your mailing list for real-time deliverability testing.

They first advise any correction of your sending infrastructure, then they check your content & give you a final score.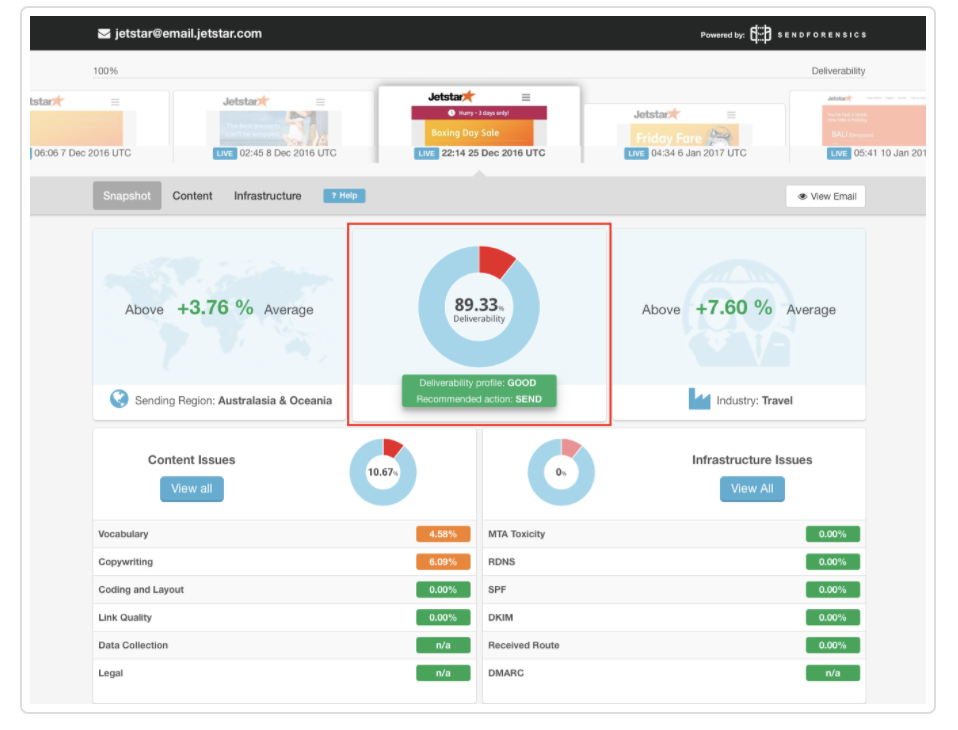 A great thing that they highlighted and understand is that what is deemed successful content varies all the time, depending on what is happening in the overall global environment. It needs constant review & analysis rather than a one-time check.

There is no limit to the number of email tests you can send to SendForensics to test, so it is not an issue to test every single campaign prior to launch to maximize the deliverability.

SendForensics also compares the results of all your tests, so you can quickly see if the changes you make in your copy and settings actually affect your deliverability in a positive or a negative way.

Pricing: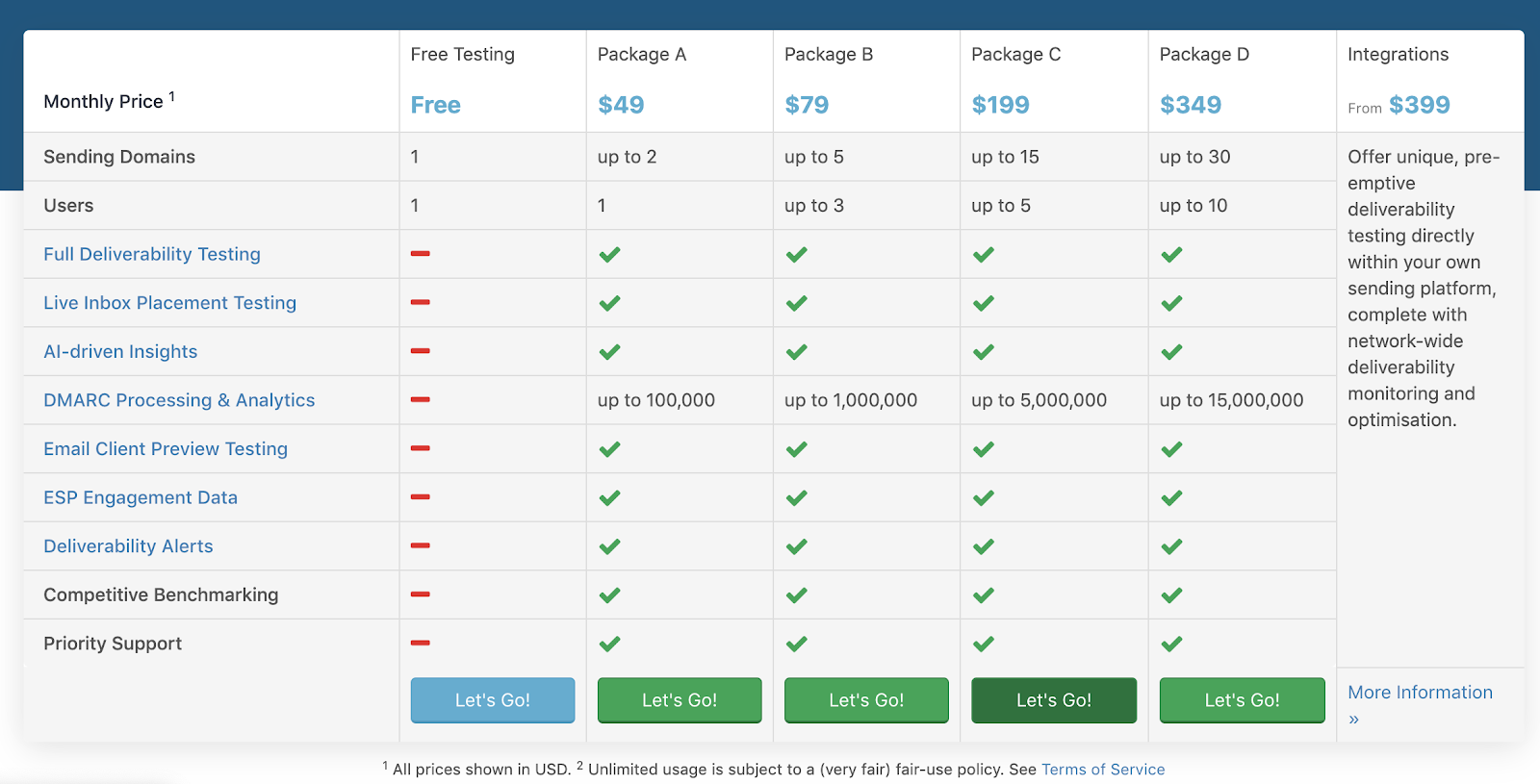 6. Mailtrap
Mailtrap is an email marketing testing tool to test emails sent from the development and staging environments. It is like a virtual inbox or a dummy SMTP server.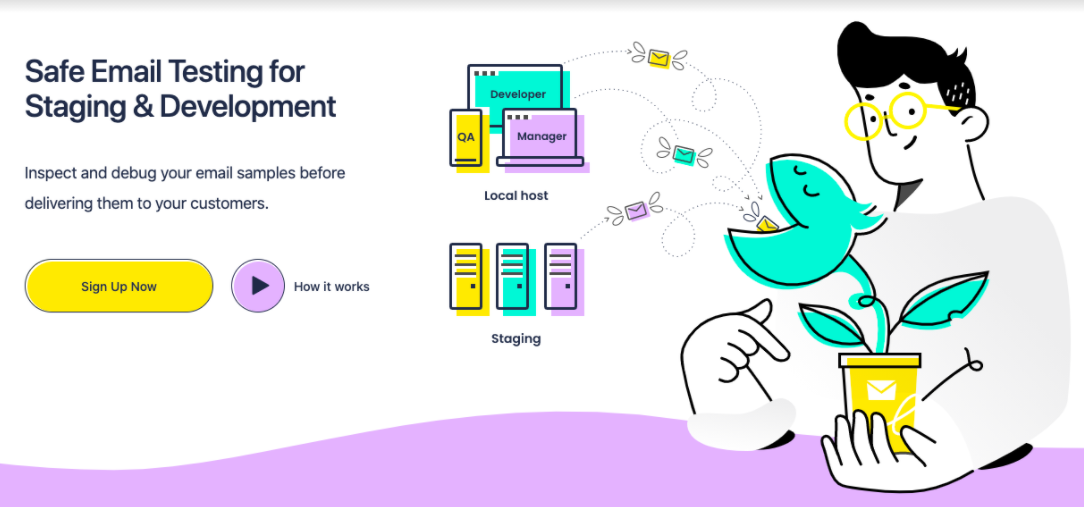 It allows you to test, view and share emails sent from the development and staging environments without spamming your real subscribers.

You can do the following with Mailtrap:
Test emails to avoid getting stopped by spam filters of inbox service providers
Test if the HTML of your email is supported by popular email clients
Check your domain and get recommendations for how to avoid spam filters
Share inboxes with your team for better collaboration.
You will be able to use the real email addresses of your subscribers while testing, without any emails going to the actual subscribers.

Mailtrap Pricing & Free Plan:
Mailtrap provides a forever free plan that allows you to test a total of 500 emails per month. The cheapest paid plan is for $9.99/month that allows you to test 5,000 emails per month.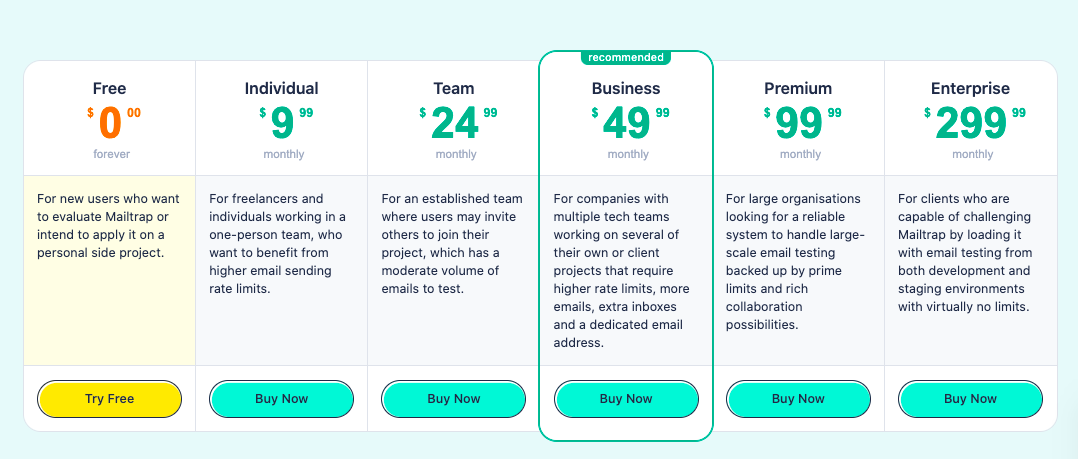 7. Sender Score
Sender Score is like your credit score. It's a number from 0 to 100 and indicates the reputation of your domain.
The higher your score, the better your reputation and the higher your email deliverability rate.

If your Sender Score is below 70, you need to fix your sender reputation. If it is between 70-80, then you should follow some more industry best practices on email deliverability. If it's above 80, you don't have to worry about anything.

This service is provided by ReturnPath.

8. SendPulse Email Verifier
The platform is working to facilitate multichannel marketing for small and mid-sized businesses. Among various features for generating and nurturing leads, SendPulse provides an email verifier that can drastically improve email deliverability.
So basically, the email verifier works to search your email list and remove non-existent email addresses, spam traps, or misspelled email addresses.
The process of email verification is quite simple. You just have to upload your email list to the system, and it'll be automatically checked for legitimacy.
When the verification process is complete, you get a separate list of all the valid contacts. At this point, you can segment your email list and add variables to better structure your next email campaign.
Removing invalid contacts from your email list not only helps to improve deliverability but also improves ROI as you are not sending emails to non-existing customers.
Pricing:
Basic plans on the platform are available for free, which allows customers to check the functionality before making any sort of investment.
The starting option for the paid plan is around $3 for up to 1000 email addresses.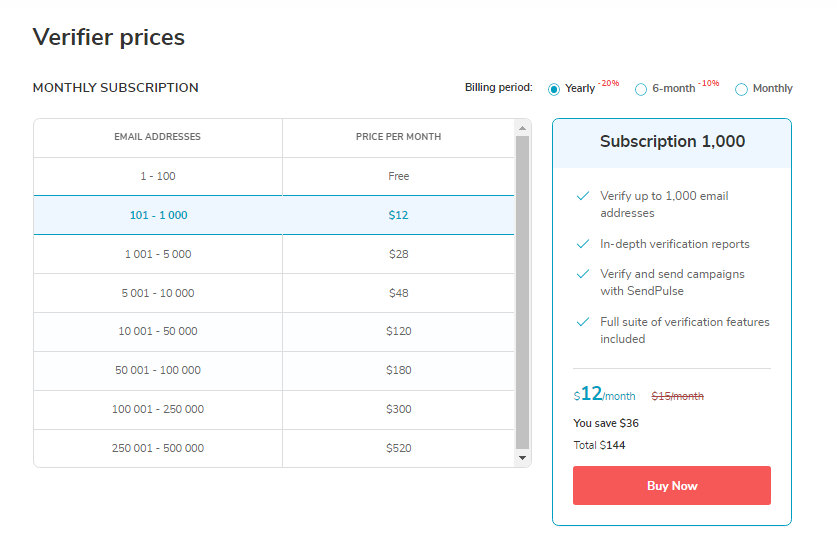 Wrap Up

Which email deliverability tool should you use?

Well, now that you also know a bit on how to test email deliverability using these tools, you can combine several of them while testing your email deliverability as each one looks at deliverability from a slightly different point of view. When you have gathered enough data & experience to draw the right conclusion, then you can take a pick or two.

If you're just getting started when it comes to controlling and improving your deliverability, start from the basics & read this ultimate guide on email deliverability.

Email deliverability is pretty hard & most people just give up.

It's heartbreaking to see that.

So the first thing I would suggest you do is to choose your ESP wisely. Go for the one that cares not just about its own 'coolness' or look and feel of its swanky drag-and-drop automation platform, but also about the hard things like email deliverability, intuitiveness, and affordability.

I would say that SendX checks all three boxes and it's trusted by 3000+ companies already. That shows some credibility too. You can try it for 14 days for free. No credit card or filling lengthy forms is required. It's easy to sign up & you will get access to all the features.
FAQs
1) What is Email Deliverability?
Email Deliverability is the set of processes that determine whether your email will land in your subscriber's inbox or not.
2) What are SPF, DKIM signatures?
SPF allows email senders to define which IP addresses are allowed to send mail for a particular domain, while DKIM provides an encryption key and digital signature that verifies that an email message was not forged or altered.
3) What is a good email deliverability rate?
The average email deliverability was 79.6% in February 2020 according to EmailToolTester. Going by that statistic, anything over 80% should be regarded as a good email deliverability rate.
4) How is the email deliverability rate for SendX?
SendX email deliverability is best in class. We say, for best customers, it's as high 99.4%. From an expectation-setting standpoint, we tell a range 75-99.4, depending on the customer success quality and list hygiene.